Face Masks Distribution
Masks are available at the Marion Town Clerk's Office for residents who did not receive them during the May 30th distribution.
Please call the Town Clerk's office for more information at 315-926-4271
Masks are being provided by Wayne County Public Health & Wayne County Emergency Management.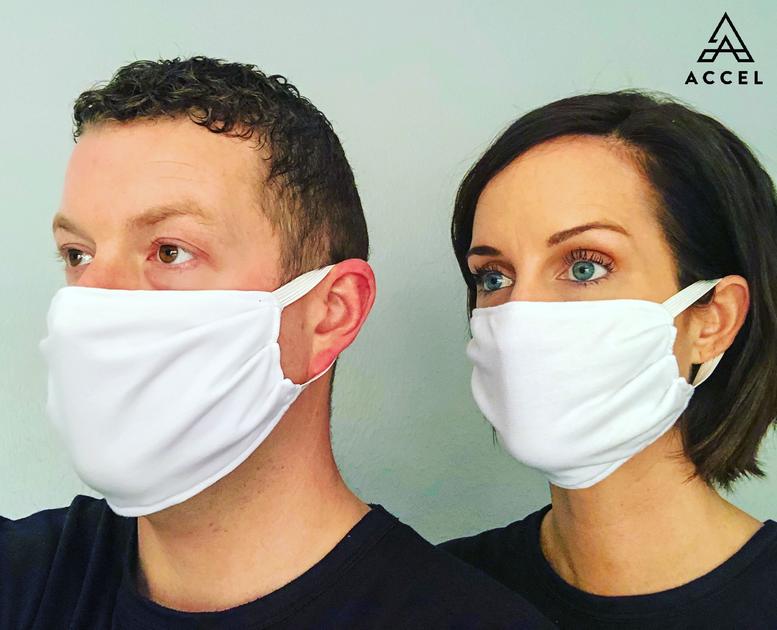 Please note - The Marion Town Clerk's office will have reduced hours for the month of June.
June 1-5 - 9am – 4pm
June 8 & 9 - 9am - 4pm
Wednesday June 10 9am - 2pm
Thursday & Friday, June 11 & 12 - Closed
Monday, Tuesday, Wednesday June 15-17 9am - 2pm
Thursday & Friday June 18 & 19 - Closed
Monday, Tuesday, Wednesday June 22 -24 9am - 2pm
Thursday & Friday June 25 & 26 - Closed
Monday & Tuesday, June 29 & 30 - 9am - 4pm
If you have questions or concerns, please call 315-926-4271. Thank you for your patience and understanding.
Mill Street Hamlet Project
Wayne County Highway Department Project Notice
Mill Street Hamlet Project
June 4, 2020
To: Mill Street Residents (MAIN STREET TO PEMBROKE DRIVE)
Wayne County DPW will begin sidewalk installation on Monday, June 8th between South Main and Pembroke Drive. The concrete gets poured through the driveways and you will not be able drive on them for a few days once poured or until caution tape is removed.  The County will NOT close the road closed during this time.  If you know of some property owners / businesses / Church close to your house you may want to contact them to park in their driveways or yards temporarily. Parking is available along Pembroke Drive, Union Street, Second Reformed Church and Main Street.
Sidewalks will be installed in the following areas:
South Main to Erotus Ave: South side of Mill Street / excluding the Church.
Seneca Foods driveway to Pembroke Drive: South side of Mill Street
South Main to Union Street: North side of Mill Street
Please notify us if you feel you can't make adequate arrangements.  We will try to be flexible as long as we know your situation.
Once sidewalks are complete, the County will perform final restoration including driveways, topsoil and seeding.
If at any time you have questions, please don't hesitate to contact me at
315-946-5600 or by email (bfrey@co.wayne.ny.us) or contact Tom Walton (foreman) on the project.
Sincerely,
Brian Frey
Wayne County Highway Engineering Department
Town Board Meeting notice for Monday, June 8, 2020
NOTICE OF CHANGE IN PUBLIC MEETING LOCATION
The Marion Town Board will be having their June 8, 2020 meeting at 6:30pm in the Marion Town Park.  This location will allow board members to meet in person, social distance, and allow residents to attend.
Legal Notice
Town of Marion
Notice of Public Hearing
Unappropriated Fund Balance
NOTICE IS HEREBY GIVEN that the Marion Town Board will meet and hold a Public Hearing in regards to sidewalk improvements on Maple Ave for the amount not to exceed of $13167 from unappropriated fund balance.
FURTHER NOTICE is hereby given that the Public Hearing will be held on Monday, June 8, 2020 at 6:30 pm in the Marion Town Park, Park Drive at which time all persons will be heard in favor or against any items therein contained.
This meeting will be held Under Pavilion A, outside.
Any questions, please contact Town Supervisor, Jolene Bender at 315-926-4272
REDUCED Hours & Contact information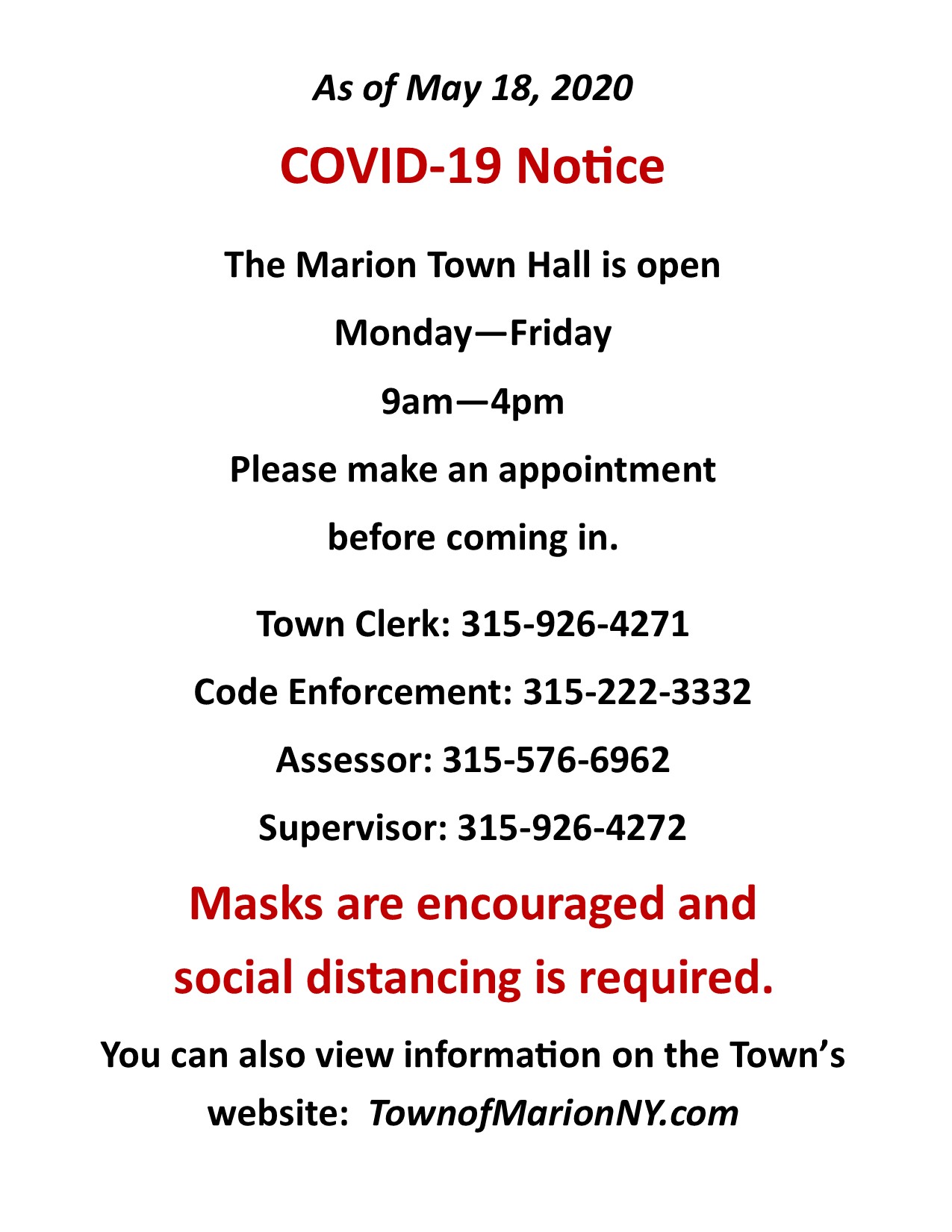 ---
Marion Spring Market - Cancelled
The Marion Events Community's Spring Market scheduled for May 16th, 2020 has been cancelled.
---
Town Park Playground CLOSED
The Marion Town Park Playground is CLOSED until further notice.  The closure is the result of the COVID-19 social distancing requirements placed by the Governor of New York. 
Thank you for your understanding.  Please stay safe and healthy.
---
Spring Recreation Baseball/Softball - CANCELLED
The Marion Recreation Spring Baseball/Softball program has been cancelled due to the restrictions regarding the COVID-19 Pandemic.
Stay safe, Stay Healthy!
---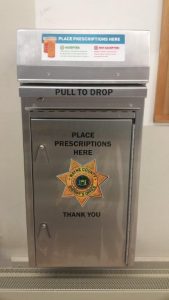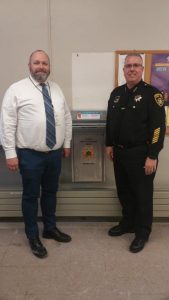 LYONS — Wayne County Sheriff Barry Virts and County Clerk Michael Jankowski have partnered to put a medication drop box at the clerk's Department of Motor Vehicles office at 9 Pearl St.
The drop box is available to the public during regular business hours. Virts said items that can be dropped off include prescription medication and ointments, pet meds, prescription patches, over-the-counter medication and vitamins.