Fall 2019 Town Board Newsletter
Fall/2019
Hello from the Marion Town Board.
We would like to take this opportunity to update everyone in the community about town events, news within our community, and provide information that might be of interest to the town residents. While much of this information is posted on our town website and through social media, we realize that not everyone wants to use the internet as a resource for obtaining information. Monthly calendars on town events are distributed to the businesses around town and are generally posted for everyone to see. Copies can also be obtained at the Town Clerk's office.
We have many exciting projects that are presently underway. When driving into the town, you might notice that many of the Main Street buildings are undergoing new facades. This is being paid for by a state grant that the town applied for, as well as contributions by the owner of the buildings. The work should be completed this year and we are hopeful that it will bring new business to Main Street that will in turn appeal to our local people to patronize.
Mill Street is presently undergoing infrastructure upgrades and as a result, there will be new sidewalks installed to replace the old ones that were in disrepair. We would like to thank everyone for their patience, as this project is taking considerable time. We are hopeful that the detours will soon be over and all work completed. The town is looking into adding LED lighting throughout the town to reduce electricity costs.
Local businesses continue to need our support. We were disappointed to lose our local bank this past year and have encouraged other banks to consider coming to our town but thus far, do not have any leads.
We are working with the volunteer Cemetery Association to ensure the financial viability of keeping the cemetery well maintained. This association has done a fabulous job and donated many hours to keep our cemetery beautiful. Many cemeteries in NYS are experiencing financial difficulties due to a sharp decline in burials. NYS has mandated that all towns in NYS maintain the cemeteries to acceptable standards if associations become financially distressed.
We have many town employees that work hard to ensure that our town continues to operate smoothly to meet the residents' needs. As town board members, we encourage people to contact us with any questions, concerns or suggestions. We welcome attendance at our bi-monthly town board meetings, which occur on the second and fourth Monday of each month, starting at 6:30 pm. Our public hearing for the 2020 budget will be on October 28th at 6:30. Please join us. Our information is posted on the website @ wwww.townofmarionny.com or facebook @ Town of Marion.
Town Board Members:
Supervisor-Nick Deming @315-926-4145 or ndeming@townofmarionny.com
Councilman-Laverne Bliek @315-926-5484
Councilwoman-Joan Fisher @315-573-3151 or jfisher@townofmarionny.com
Councilman-Ron Lonneville @315-926-4452 or rlonneville@townofmarionny.com
Councilwoman-Debbie Smith @315-576-1964 or dsmith@townofmarionny.com
The Town Clerk's Office
The Town Clerk's Office is the gateway of information for the Town of Marion. The office is located at 3823 North Main Street.
The Town Clerk, Heidi Levan and Deputy, Kristina Braell are available to help you.
The office is open on Mondays: 9am – 6:30 pm and Tuesday – Fridays: 9am – 4pm.
The Town Clerk's Office is responsible for issuing licenses and collecting various Town, County and State fees. In addition, the Town Clerk is the Records Management Officer for the Town, Clerk to the Town Board, coordinator of all Town Park reservations, Town & County Tax Collector, School Tax Liaison and offers free Notary Public service.
If you are new to Marion, the Town Clerk's Office is happy to provide you with a "Welcome to Marion" packet.
Services available at the Town Clerk's office:
Marriage Licenses
Dog Licenses
Certified copies (Birth, Death, Marriage)
NYS DEC Hunting and Fishing Licenses
Handicap Accessible parking permits
Town Park reservations
Certificates of Residency
Freedom of Information Law (FOIL) requests
Wayne County Water & Sewer Authority – Water payments
Town of Marion Sewer payments
Games of Chance licenses
The Town Highway Department
The Town Highway department continues to keep our roads safe, as well as maintain the town grounds. As many of you know, Tim Boerman, our highway superintendent, was out on an extended medical leave in which many town residents rallied to help him and his family through a difficult time. We are pleased to welcome him back to work, on a part time basis, as he continues his recovery. A special thank you to Steve Taber, our Deputy Highway Superintendent, for filling in this very busy and important role. Many other town employees have also stepped in to help as well.
Assessor's Office:
We welcome Dawn VanPatten, as our new assessor. Dawn brings with her many years of experience and is presently working for two other towns as well. She is available in Marion on Mondays from 10-1 and 2-6. However, she is only a phone call away and will call you back in a timely manner if you leave a message. In addition to being responsible for the assessment of your property, she also keeps track of and files paperwork for exemptions. She can be reached at 315-576-6962 or dvanpatten@townofmariony.com
Town Code Enforcement Officer
Our town Code Enforcement Officer, Duane Smeatin, fills many roles. His main role is to review and approve all construction plans to ensure they meet building codes and zoning regulations. Building permits are required for most projects. Some examples include: new homes, barns, pools, decks, whole house generators, finishing a basement, additions, fences, sheds larger than 150 square feet, new roofs (if removing old shingles), fireplaces, and installation of wood, gas, coal or pellet stoves. Duane also inspects and monitors construction sites to determine if structures and systems, such as plumbing and electrical, are installed to meet codes and ordinances for public safety. He is currently providing much of the expertise and labor needed to complete the Town Museum, Jennie's House. Please call Duane at (315)926-4169 or (315)222-3332, if you need help understanding current building codes or zoning laws, for any questions concerning your building project, or to verify if a building permit is required for a project you are considering.
Library Newsletter for Fall, 2019
Have you visited the Marion Public Library recently? Don't judge the library's value to our community based on our books alone. The Marion Public Library has been bustling with activities for all ages during our summer reading program entitled, "A Universe of Stories." From line dancing, to story times, and belly dancing to snack-n-crafts, we are so much more than a storage space for books on shelves, which, by the way, we have lots of great titles that our staff can recommend! In August, Epic Trainings offered a "kids stay home alone" safety course for children 7-12. We also hosted favorite programs such as LEGO® block parties, kids' book club and designed out-of-this-world galaxy t-shirts. New to our collection this summer, we have an Empire Pass, which allows free access to most NYS parks and more, at the desk for our patrons to borrow with their library card. This popular item has a loan period of one week.
Did you know the Library offers free wi-fi? How about the fact that you can download free ebooks and audiobooks to your device with a library card? We also have a library subscription to Ancestry.com to be used in-house. Visit our online catalog at www.owl.org, and manage your library account, with hold requests and renewals on your own time. Visit www.marionlib.org for current information. Also, we invite you to "like" the Marion Public Library on Facebook. Love to read? Consider joining our monthly adult book club. We are pleased to announce that Yoga sessions with Angela Brown will resume in September on Wednesday evenings at 6:30 PM.
Our Couch to 5K group was a success this summer and reached our goal of participating in the Marion Fall Festival. We also held our annual book and bake sale during the festival, which was a great success, will all proceeds benefiting our summer reading program.
Sewer Treatment Plant
The Town of Marion is excited to report that preliminary engineering and planning work is underway for a proposed regional wastewater facility project which will benefit both existing and future sewer users within the Town of Marion.
This project, as initially configured, included plans to construct a new regional wastewater treatment plant in the Village of Palmyra, along with the conversion of existing treatment plants in the towns of Marion and Macedon into large pumping stations which would pump collected waste from those facilities to the new regional plant. Recently, the Town of Walworth has indicated its desire to join into this regional project if satisfactory financing commitments can be obtained through the funding agencies. In total, this project would result in the decommissioning of four existing wastewater treatment plants and consolidation into one new regional facility.
To date, this project has received strong support from the New York State Department of Environmental Conservation and our government officials on both the State and National level. This project embodies the spirit of regional cooperation and will result in construction of a state-of-the-art treatment facility which will allow for proper treatment of existing wastewater flows from all of the involved communities while also providing excess capacity for future growth within this region of Wayne County.
The Town of Marion is currently under a consent order from NYSDEC and was faced with the choice of either building a new treatment plant on its own or participate in this regional project. Although the cost of sewer service would increase under either option, the Town of Marion is pleased to report that the regional treatment option will result in significantly lower projected costs per user than the Marion stand -alone project. The current schedule for this project calls for the new regional facility to be complete and on line in early 2023. More project details will be forthcoming in the next few months.
Town Water
The Town of Marion is pleased to reflect on the fact that most of the Town now has access to Public water. All of the collective water districts and extensions have taken many years to complete but the effort has been worthwhile and is greatly appreciated by many of our residents.
Unfortunately, the Town must now face the reality of providing adequate water storage to many of the newly served areas outside of the Hamlet itself. The existing water storage tank behind Seneca Foods was built to serve the needs of both the Hamlet area and Seneca Foods, but it is not at a high enough elevation to properly supply the expanding water system demands and firefighting requirements outside of the Downtown (Hamlet) area.
Up until this time, the new water districts and extensions thereto have been provided with storage for system demands through reliance upon existing storage tanks in the Towns of Walworth, Williamson and Palmyra. Due to the overall expansion of water system demands in Marion and several adjacent towns in central Wayne County, the time has come for each of these towns to address the need for additional storage.
As an alternative to constructing a new higher elevation water storage tank on its own, the Town of Marion has elected to participate in a regional water storage project. This project includes the construction of a regional water storage tank, along with pumping and distribution system improvements to serve six towns in Wayne County (Marion, Williamson, Arcadia, Sodus, Lyons and Huron). The primary components include a new 2 million gallon tank on Brantling Hill in the Town Arcadia, pumping system upgrades, and several important transmission and distribution system improvements. This project will greatly improve regional water system reliability to meet growing system demands and to provide enhanced overall fire protection.
The Town of Marion is working cooperatively with the other five Towns and the Wayne County Water and Sewer Authority to apply for grant funding through various sources to help reduce the cost impacts of this project upon all users. More details will be provided once all funding details have been finalized. It is anticipated that this project will be under construction in 2020, with final construction components complete by late 2021 or early 2022.
Recreation Department/Town Park
We have hired a part-time Recreation Director, Carrie Gorton. She will be responsible for the oversight of the recreation programs that we currently offer, as well as initiating new programs, with an emphasis on adult recreation. She can be reached at 585-545-8851 or by email at ckgorton@outlook.com. Our facebook page is: Town of Marion Recreation. The timeline for current offerings are as follows:
Children's Activities:
Fall: 5th and 6th grade basketball-co-ed
March: 2-6th grade basketball –co-ed
Winter/Spring: Volleyball
Spring: K-6 softball and baseball
Summer: K-6 soccer
Summer: Daycamp recreation program (K-6th grade)
Adult Activities:
Summer and Fall: Co-Ed Softball (Sunday afternoons)
Fall/Winter: Co-Ed basketball (Tuesday evenings)
Winter: Card night-types of cards to be determined by who shows up
We are interested in starting up adult volleyball and possibly pickleball. Please contact Carrie with suggestions about adding more programs to our recreation department.
We are fortunate to have an active Boy Scout Troop who help to beautify the park. Some of their volunteer work includes weeding and mulching, building and repairing birdhouses and park tables/benches, and general cleaning. The Town Park has been well used this season. If you are interested in using any of the pavilions, please contact the Town Clerk's office. We have started a reserve fund with plans to add an all season lodge, similar to Walworth or Williamson's.
The Marion Events Organization:
PO Box 330, Marion, NY 14505 email: events@townofmarionny.com facebook: Marion NY Event Organization
A 501 (c) (4) Non-Profit Organization
Officers: President – Judy Casler
Vice President: Ron Lonneville
Secretary – Caryn Devlin
Treasurer- Debbie Smith
The Marion Events Organization was established in 2018 with the purpose of organizing events and entertainment for the community of Marion. Many groups over the years had success with organizing events but as with all things, people get older and can no longer do what they once did.
The organization was granted non-profit status in 2019 making it a tax deductible donation under the 501 ( c)(4) portion of the tax code.
We had success in 2018 with revitalizing the Fall Festival and have added several more events this year. On May 11 we had a Spring Market with vendors and music in the parking lot next to the museum. It was well received and some of the vendors signed up for the Fall Festival.
On June 1 we organized the Community Garage Sale. We had dozens of participants and hope that it only continues to grow next year.
On July 21 we organized a Strawberry Shortcake Social with the United Church followed by music in the parking lot next to the museum. We had about 70 people attend and consider this a success for a first time event.
On Sept 7 we held the Fall Festival. There was music all day, over 60 vendors of crafts, non-profits and other community members, the museum open house, children's entertainment and food vendors including Tolleson's Pizza which recently opened. We also has Crafty's Beer and Ale and the Apple Shed selling their cider and wine as vendors.
On Nov. 30 we will have a Holiday Market with vendors set up at the United Church and the Marion Fire Hall. In addition the museum will have an open house with tin punch making sponsored by the 4H groups 4Leaf Friends and Bucks and Does.
We welcome business sponsorship and provide advertising signs and mentions in local papers to those who do sponsor. We hope that you will come out and support these events, get to know your neighbors, support local businesses and just have a pleasant day in our wonderful town!
Jennie's House/Museum
The Marion Museum in its original form was located over the Town Offices, which had steep stairs. The historian and historic association tried to optimize the space, but it quickly became too crowded and as a result, visitors were sparse and the elementary school tours became infrequent.
In 2006, the decision was made by the Town Board to purchase the former Jennie Hermanet house. The plan was for the house to be renovated into a more accessible location for a community museum. Over a ten year time period, two porches were completed. In 2016, this project became a priority and the interior work began. Gutting the plaster, updating the electrical and heating/cooling systems were the first steps in restoration. A significant gift was given by Leslie Adriaansen, which was used to update the electrical system. The attic of the house has been insulated and climate controlled to maintain temperatures between 55-65 degrees. An overall, long-term budget was established to ensure a completed project. A Community Development Block Grant was received which allowed the old garage to be removed so that an addition could be added with room for a wheelchair lift to the second floor, allowing greater access for all.
The finished plans include shifting the entrance to the back, adding a family restroom that is accessible, and having an area that is fire resistant to store irreplaceable items.
The following people and/or organizations have generously donated labor or materials:
John Cornell-Heating and cooling
Duane Smeatin-Overall knowledge and labor
Austin Smeatin-Labor
Jeff Craig-Labor
Marion Highway Department
Nick Lucci
Dana Luckman-materials for grounds
4H Groups/Bucks and Does and 4 Leaf Friends-spring cleanup and mulching
Marion Elementary School Farm Club-planting of flowers and vegetables
The LDS Church-community service
Our goal is to involve as many community members as possible, so the pride we feel in this project is shared by everyone. It is a testament to the vision of the Marion Historic Association and Carolyn Adriaansen that so much has been achieved. You can find our facebook page at: The Marion Museum at Jennie's House
Budget Survey
Please help us to gather information on the interests of the taxpayers when prioritizing budget demands.
Please number 1-6 those things that you would like to see the town board prioritize, with number 1 being the most important and 6 being the least important :
Community Events/festival ______
Recreation ______
Library ______
Museum ______
New Lodge at the Town Park (similar to Walworth and Williamson's lodge) ______
Town-wide electronic waste disposal day ______
Please answer the following questions:
Where would you like your tax dollars spent? ______________________________
___________________________________________________________________
___________________________________________________________________
What things would you like to see at the Town Park? ________________________
__________________________________________________________________
__________________________________________________________________
What new recreation programs would you like to see?______________________
__________________________________________________________________
__________________________________________________________________
Should we spend money on Town buildings-Town Hall, Court, Town Museum? _
__________________________________________________________________
__________________________________________________________________
Would you like the Town to increase taxes and fees to maintain services at current level or keep the taxes the same and decrease services (Please circle which you would like). If you circle decrease services, please list the services you wouldn't mind seeing decreased or lost: ______________________________________________________________________________________________________________________________________________________________________________________
Please return this to the Town Clerk's office, or mail to Town of Marion, PO Box 260, Marion, NY 14505 Attn: Town Clerk or go to the website and fill it out on there.
Link to Survey
Below is a link to the electronic version of the Town Board Survey.
Thank you in advance for completing the survey.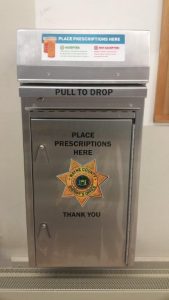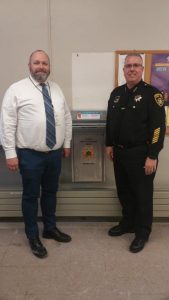 LYONS — Wayne County Sheriff Barry Virts and County Clerk Michael Jankowski have partnered to put a medication drop box at the clerk's Department of Motor Vehicles office at 9 Pearl St.
The drop box is available to the public during regular business hours. Virts said items that can be dropped off include prescription medication and ointments, pet meds, prescription patches, over-the-counter medication and vitamins.