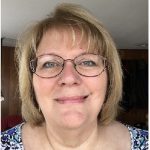 Caryn Devlin -Town Historian
---
Mailing Address: P.O. Box 330, Marion, NY 14505
Phone: (315) 926-5816
email: historian@townofmarionny.com
Website: www.townofmarionny.com
---
Welcome to the Town of Marion Historian's page! After 43 years of wonderful work by former historian Carolyn Adriaansen, I have been selected to continue her work as town historian.
My husband Mark and I have lived in Marion since 1981 and our son Ryan has attended school here. We have all participated in many local activities from sports to the musical to the Senior Bash. History is a love of mine and I am looking forward to concentrating on the history of Marion and, to a certain extent, Wayne County.
As I go through the books of acquisitions over the last 43 (!) years, I have come across many wonderful items that the local community has entrusted to us. Hundreds of people have donated thousands of items. We have such a legacy that I am sure many people have no idea exists.
As you may know we have a permanent home for our collection now in the form of Jennie's House at 3794 South Main St. Contractors have been approved and renovations will begin shortly to bring this location into proper condition so that the collection currently housed over the town offices can be moved to one central location. My goal is to make as much of the collection accessible to the general public for viewing as possible.
This museum belongs to the community and we hope when the work is done that many community groups such as Boy Scouts, Girl Scouts, school groups etc. will once again take advantage of learning more about local history.
If you have items that you would like to donate for the museum, please contact me by phone at 315-926-5816 or email me at marion.ny.historian@gmail.com You could also send regular mail to my attention at P.O. Box 330, Marion, NY 14505. I would love to hear your family stories and add them to the rich history of this region. If you have any questions, I would also do my best to help you. You can check out our Facebook page, Like Us at "Jennie's House – Marion Museum" for updates on the work and general history tidbits.
In short, I look forward to getting to know you better and also helping you save the history of your families in this town for future generations.
With best regards,
Caryn Devlin
Historian